Commercial Plumbing prides itself in the quality and workmanship necessary to satisfy discerning owners and guests.
Please rest assured that our credentials, experience and in-house expertise will benefit every healthcare construction project we undertake.
We work with a variety of preconstruction and construction healthcare experts. We are able to address and resolve the unique challenges healthcare construction presents. We are dedicated to work in a way that ensures uninterrupted patient care and patient, staff and visitor safety.
Commercial Plumbing continues to set the standard for healthcare facility construction & renovation in Hawaii. The following are some plumbing & fire sprinkler healthcare projects we have completed in the last few years:
Complete new facility to include Education and Administration Building, Research Building, Central Plant, Ancillary Building
Installed the following systems:
– Plumbing fixtures
– Plumbing installation of laboratory equipment
– Sanitary waste & vent systems
– Roof and storm drainage systems
– Acid waste and vent systems
– Domestic hot & cold water systems
– Laboratory gas
– Vacuum & air systems
– Fuel gas system
– Provide design assist services
– Installed fire sprinkler system in all buildings
University of Hawaii - John A. Burns School of Medicine
Straub Hospital - 888 South King Street
New Fire Sprinkler System for Patient Rooms on the 3rd, 4th, 5th, and 6th Floors
Replace plumbing fixtures in Patient Rooms on the 3rd, 4th, 5th, and 6th Floors
Relocate Medical Gas Outlets in Patient Rooms on the 3rd, 4th, 5th, and 6th Floors
Emergency Room and X-Ray Alterations
Plumbing, Med Gas, Fire Sprinkler Relocation
Pharmacy Expansion —Plumbing and Fire Sprinkler Relocation
2nd Floor Makai Tower, X-Ray —Plumbing and Fire Sprinkler Relocation
3rd Floor Makai Tower, Gastro-enterology— Plumbing and Fire Sprinkler Relocation
Basement Level—Install Fire Pump System in Mechanical Room
Cath Lab Renovation—Plumbing, Med Gas, Fire Sprinkler Renovation
Installed plumbing fixtures & medical gas in 4 new Post Partum rooms, 1 treatment room, 1 breast treatment room and new pantry
Relocate and add fire sprinkler heads to accommodate the new ceiling and room layout
Castle Vera Zilber Birth Center
1998 QMC Emergency Services Center
1999 QMC Same Day Surgery Center
2002 QMC QET 5th and 6th Floor Renovation—Patient Rooms
2005 QMC QET Invasive Cardiac Laboratory Redesign
2006 QMC Cath Lab 4 Renovation
2006 QMC QET MRI No. 2 Replacement
2006 QMC QET 3rd Floor Cardiac Comprehensive Care
2008 QMC QET Level 1 Angiography/Interventional
The Queen's Medical Center Projects
Projects involved working in an existing fully functional hospital environment. All projects involved connecting to existing active services including medical gas systems, vacuum system, sanitary waste and vent, domestic cold water, hot water, hot water re-circulating, and storm drain systems and furnishing and installing new plumbing fixtures.
The Queen's Medical Center Electrical Upgrade (Fire Protection)
Wet pipe and preaction fire sprinkler system – Wet combination riser and standpipe with hose valves – Fire Department connections
Pearl Ridge Dialysis Center - 1999
Conversion of a retail space into a dialysis center
Sanitary waste and vent, domestic hot and cold water systems
Reverse osmosis circulating piping distribution system for multiple dialysis stations
-New 2-story medical clinic facility
-Hot water heating equipment and storage tanks
-Medical gas cylinders and monitoring system
-Medical vacuum pump
-Oxygen and vacuum piping systems with zone valves and alarm panels
-Sanitary waste and vent, domestic hot and cold water and storm drainage piping systems
-Plumbing fixtures and equipment
Kaiser Waipio Medical Center - 2003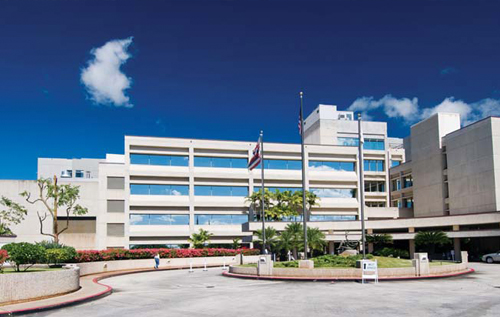 Kaiser Moanalua OBS Bed/ Neuroscience Renovation – 2005
Renovation of existing facility
Medical gas and vacuum systems with zone valves, wall outlets, and alarm panels
St. Francis Hospital Sullivan Wing 4th and 5th Floors – 1998
Renovation of two floors of patient rooms
Sanitary waste and vent, domestic hot, cold and hot water circulating piping
Medical air, oxygen and vacuum piping
Medical gas zone valves, alarm panels and wall outlets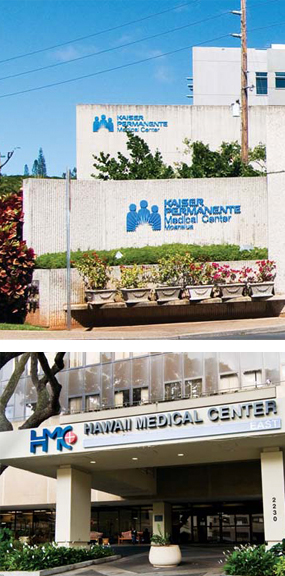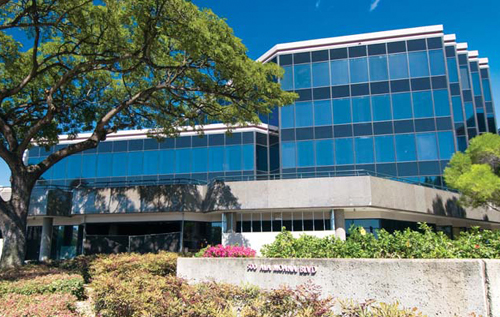 Surgicare of Hawaii at Waterfront Plaza 500 Ala Moana Blvd.
Tenant Build-Out for a new Surgery Facility with five Operating Rooms and two Endoscopy Rooms. Installed systems include:
Plumbing fixtures and equipment including specialized clinical and scrub sinks
Equipment and piping for water,drainage, waste, and vent
Deionized and water softener systems
Sterile and disinfecting equipment
Medical gas 4 manifolds, 9 valve boxes, outlets, and piping for oxygen, nitrous oxide, vacuum, and medical air
2 Master and 4 Area Gas Alarm Panels
Relocating and adding fire sprinkler heads to accommodate new ceiling
and room layout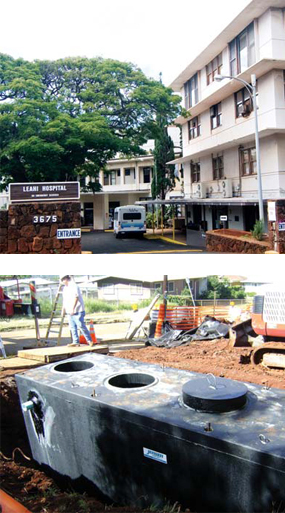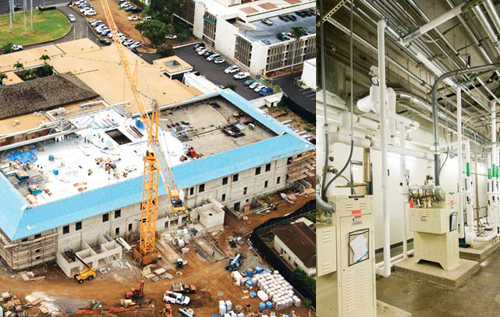 Shriners Hospital for Children – Honolulu
Demolition of existing hospital, and providing temporary hospital and administrative services
New three-level hospital including 11 exam rooms, 12 patient rooms, and 2 operating rooms
Medical vacuum pump, medical air compressor, oxygen and nitrous oxide cylinder manifolds
Medical air, oxygen and vacuum piping and wall outlets, zone valves, area and master alarm panels
Domestic water booster pump, gas fired hot water boilers, steam boiler, deionized water system, sanitary sewer and storm drain sump pumps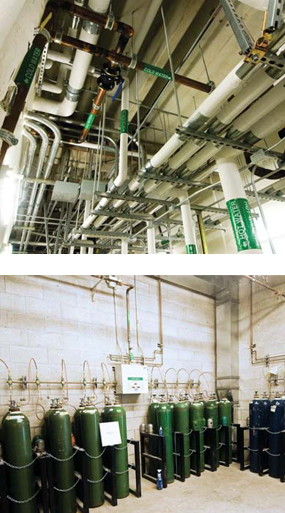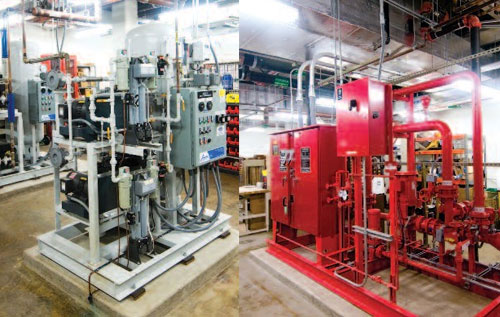 Plumbing for full-service kitchen
Plumbing piping systems included sanitary waste and vent, domestic hot and cold water, tempered hot water, fuel gas, steam, storm drainage, medical gas and vacuum
New wet pipe fire sprinkler system off an electric fire pump and jockey pump
FM200 Fire Suppression System
Wet combination riser and standpipe with hose valves
Preaction dry pipe systems for the elevator shafts and machine rooms
Fire Department connections
Two-level Administrative Office Building
Family Quarters and Recreation Building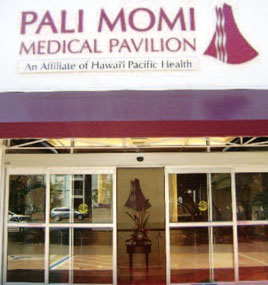 Pali Momi Medical Pavilion – Pearlridge
New 2-story patient examination rooms and MRI facility
Kapiolani Medical Center for Women & Children Center – Mother Baby Care Unit Interior Facelift
Renovation of patient rooms