Over the years, our experience and familiarity with properties and facilities has increased customer requests for our repair and maintenance services.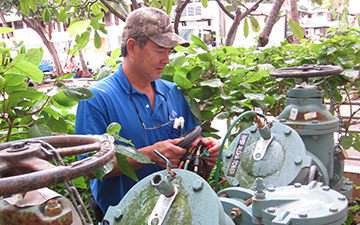 BackFlow Prevention & Testing
Commercial Plumbing is certified by the City & County of Honolulu to perform backflow testing. We currently have four (4) certified backflow preventer testers. Our recurring clients are Outrigger Hotels, Sheraton Hotel, Royal Hawaiian Shopping Center, Watumull Properties, Colliers International Real Estate Management Services, Alexander & Baldwin Property Management, Avalon Development Corporation, US Renal Care and various private physicians' offices.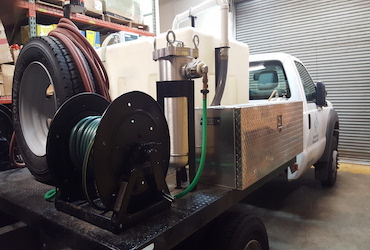 HIGH PRESSURE JETTERS
Our jetters utilize high pressure water to clean and remove debris from sewer and drain lines. This cost effective, efficient way of cleaning not only assists with clearing blocked lines but when performed on a maintenance basis can reduce the occurrence of future blockages.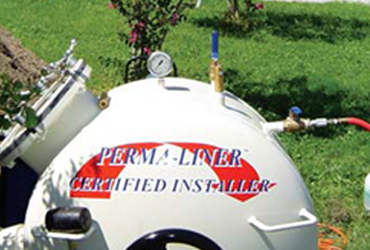 Pipe Rehabilitation
Commercial Plumbing currently represents the Lateral Lining System known as Perma Liner and Picote epoxy coating in the State of Hawaii. The Lateral Lining System is designed to rehabilitate existing small diameter pipelines without extensive excavation by using a cured-in place plastic-pipe (CIPPP) method of pipe rehabilitation. Damaged or waste pipes, like sewer laterals, can be rehabilitated using this technique. The Picote epoxy coating is used to rehabilitate pipes that are failing for reasons such as cracks, breaks, root intrusions and more. Pipes that are rehabilitated with Picote epoxy coating system are brush casted with multiple coats to extend its life for an additional 30-50 years.
The major benefit of this system is not having to remove, excavate or install new pipes to leaking service laterals that are buried underneath buildings, driveways, swimming pools, walls or tiled floors, resulting in reduced repair costs and less anxiety for the property owner.
In addition, existing service laterals are repaired in a significantly reduced amount of time. Because the existing PVC, clay or cast iron pipe is permanently repaired and not removed, the time involved is less than an installation of a new sanitary sewer service lateral. Some of the successful lining projects completed to date have been performed at shopping centers, commercial properties, residential homes and apartment complexes. Our recent projects include:
Waikoloa Marriott
Outrigger Canoe Club
Lahaina Shores
Rainbow Vistas
First Insurance Building – Storm Drain Stacks
Hilton Hawaiian Village – Tapa Bar
Brigham Young University Campus
Sand Island Waste Water Treatment Plant
Waialae Gardens – Roof Drain Stacks
Grand Hyatt Kauai
Hyatt Regency Maui – Fitness Center
Honolulu Syrup Plant
Hale Laulima – UH Manoa Campus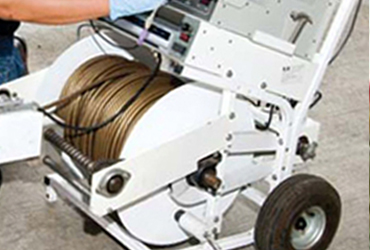 Video Camera Viewing & Toning
Commercial Plumbing employs different cameras that are capable of videoing existing pipe conditions in various pipe sizes. The video allows property owners to predetermine the cause of leaks or blockages prior to effecting repairs which can greatly reduce time and repair costs. Advance screening of pipe conditions is also instrumental for design teams in identifying potential work for future projects. As part of our services we also provide a findings report including a DVD of the camera recording.
In conjunction with our video camera equipment, we utilize toners to assist in identifying underground and hidden pipe locations. By emitting non-harmful frequencies, the toner is able to specifically locate existing underground pipes and inverts. For owners who have just purchased a property and do not have as-built drawings, or if drawings have been misplaced over the years, this is an inexpensive tool for tracing plumbing lines.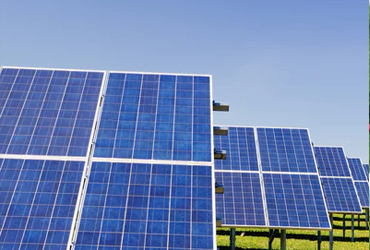 Solar Water Heating
The local utility company touts solar water heating as one of the best ways to decrease utility costs, conserve energy and save the environment. Commercial Plumbing recognizes the value in harnessing renewable energy while saving customers money. As a Hawaii Energy participating contractor and participating contractor in Honolulu Community Action Program's (HCAP's) Weatherization Assistance Program, we have installed numerous solar water heating systems at various military bases, single family residences and multi-story residential complexes. A few benefits of solar water heating are:
Energy conservation and decreased energy costs
Possible utility company rebates
Additional cost savings when installed with a tankless water heater
Possible government tax credits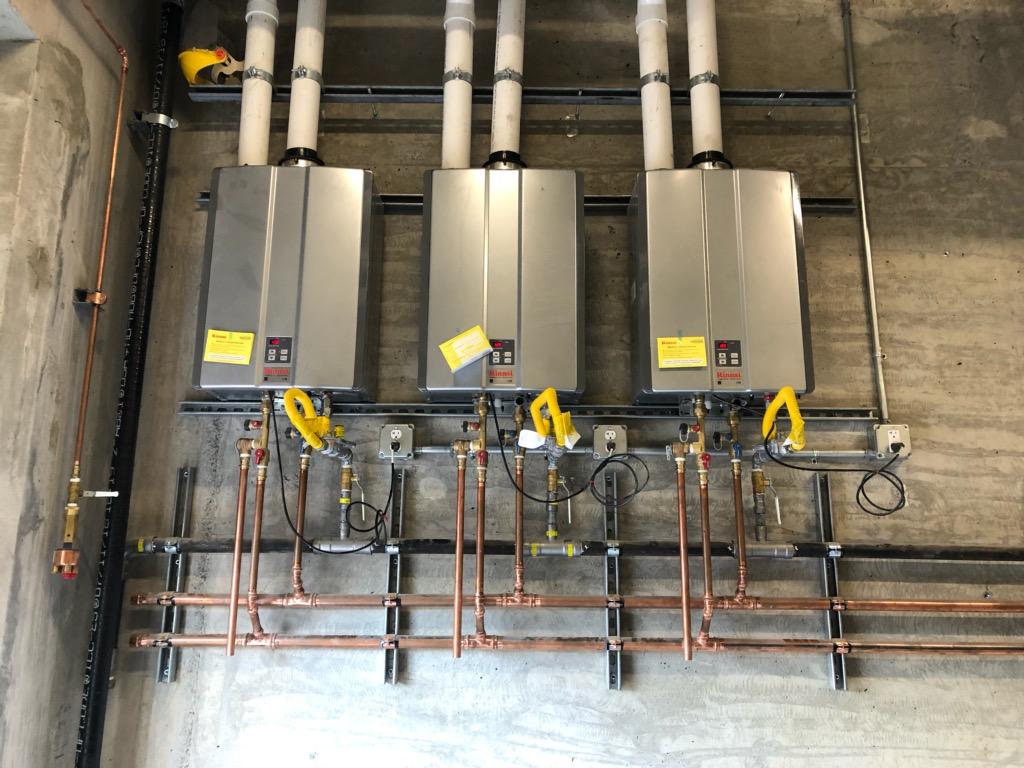 Tankless Water Heating
The future of water heating is here and Commercial Plumbing is ready to bring this future to our clients. The tankless water heater is an energy-efficient heater that provides hot water on demand and only when needed. Without a reservoir tank like traditional water heaters coupled with the technology of the heating system, there are numerous advantages to this type of water heater.
Heat water only when you need it
Space saving design easily installed on a wall
Never run out of hot water
Available for solar water heating applications
Reduced risk of flooding
Possible government tax credits
Continuous preset temperature
Hot water to multiple fixtures simultaneously